I have to admit, I am pretty good at giving your yard a design makeover. I have a knack for taking what you've got and re-shaping it enough to give your yard that artistic makeover, drawing amazing curves with a good sense of proportion and balance when it comes to layout. ( See our design tips page. ) We tend to work with homeowners who have a fair idea of what they want, and just need help with shaping the new beds.
But if you are looking for advice on planting trees, shrubs, exposures, or designing amazing hard landscape features, don't count on me.  There is no one in the business as talented as Adelle Goodwin.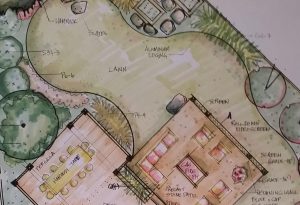 I have executed nearly a hundred of her designs over the years. She creates the most amazing hand drawn designs- real art! She has good ideas, and most importantly, she uses her imagination after consulting with you, to create a design that is actually DO-ABLE.
I have dealt with designs that are so unrealistic, or so blatantly out of touch with the actual ground conditions that the plan is a waste of money. Some supposedly professional designs have such glaring problems, that you wonder if the designer even visited the site! Adele's plans are definitely worth it – if you need to know about plantings, and want to have a mix that shows nicely year round. Getting a plan is especially valuable if you have a larger lot and are planning to spend a lot on beautiful hard features and to get an attractive mix of colour and texture in your design.
Getting a design is not cheap, but if you lack imagination or experience with gardening, you can save the cost of the plan by using Adele's accumulated knowledge and artistic skill to avoid costly mistakes.
Following is some biographical information from her website: Earthworm Landscape design
Adele has a degree in Horticulture from the University of Guelph in Ontario. She owned Gardens & Gifts, a Garden Centre and Landscaping Company in New Liskeard, Ontario during the 90's. She moved to Alberta in 1999 and opened EarthWorm Landscape Design Co. to express her favorite part of the landscape industry, and she has designed thousands of properties since then.
Adele has been featured in Womanition Magazine in 2016 and recently in Outdoor Lifestyle Magazine and has been nominated in the Professional Trades category of the SuPearlative Awards for the past 2 years in a row. She has received many awards from the industry association of Landscape Alberta and is a judge of the competition for 2016. Adele has been on the executive of Landscape Alberta and has been a provincial rep for the Canadian Nursery Landscape Association. She is currently a member of The Edmonton Dollar Club. You can visit her"> Linked In profile.
Adele has a Certificate in Feng Shui from the Northern Star College in Edmonton which she uses to assist people in generating more harmony in their homes and lives. She has studied Dynamic Energy Healing, Healing the Light Body and Universal Shamanism.
Adele has been teaching do-it-yourself landscape design classes for 30 years and enjoys the mutual learning and fun that results from interaction in the classroom. 2016 saw her teaching at Lee Valley Tools and Greenland Garden Centre and she has spent many years teaching at the Devonian Botanic Garden. She leans to the environmental side of things and experiments with rainwater harvesting and alternative building.
Adele Goodwin: cell (780) 232-5308  Landline (780) 990-0997