Most municipalities require inspections for the grading of the ground around your home to ensure proper drainage.
Click on these links to read their guidelines on final grade
Beaumont final grading pdf  Website
St Albert
You should be sure the grading is correct before curbing is installed on your property. If you are pushing forward to get everything done, call us before the final grade is done, so that we can prepare a plan and anticipate the timing. In any case, don't worry too much about timing, as we do final grade jobs on a priority basis. We can usually do an installation within a week of your call that it is ready to go.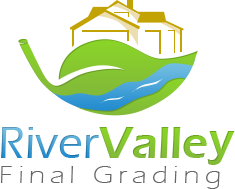 Recommended final grade installation: River Valley Final Grading
"Because we built on a hill and back onto a ravine it has been a long and frustrating ordeal to get rough grade. Vunya and his crew were in last week and already we final grade! Two years to get rough grade approval, two days to get final grade approval. I would recommend River Valley to any and everyone!"
– Hugh